Contour, Gatekeeper, & Muddyboots Integration
Today's update to Contour adds an integration with Gatekeeper and Muddyboots that automatically imports your cropping data, reducing data double entry and ensuring Contour is always up to date.
Here's how:
The new Contour FMS service takes the Gatekeeper and Muddyboots data from all accounts that have been shared with Agrii, and automatically matches accounts, farms and fields to their corresponding Contour entities
Contour then updates the cropping table with crop type, variety, drill date, target yield, residue, and crop option where data exists in the FMS that isn't already in Contour*
All data that was last updated from an FMS is highlighted in bold, with a Gatekeeper or Muddyboots symbol displayed next to the field name to ensure you always know where each data point has come from
In today's first import, Contour has already matched 2,400 accounts, 1,633 farms, 7,165 fields and updated or created 95,000 data points – saving more than 200,000 user clicks!
Note that not all accounts will have matched yet, and nor will all fields within matched accounts. Where fields have matched, data points may not have updated due to our rulesets*, or due to crop and variety names not matching for example. So don't worry if some FMS data doesn't show yet, you should see more data entering the system over the next few weeks
We will now start manually matching entities that have not been automatically matched. Along with some further work to match farms and fields by AX code, this will increase the volume of matches and data entering Contour in our next upload

Log in to Contour to check out the updates today, and please leave any feedback you may have with your CIS to help us improve.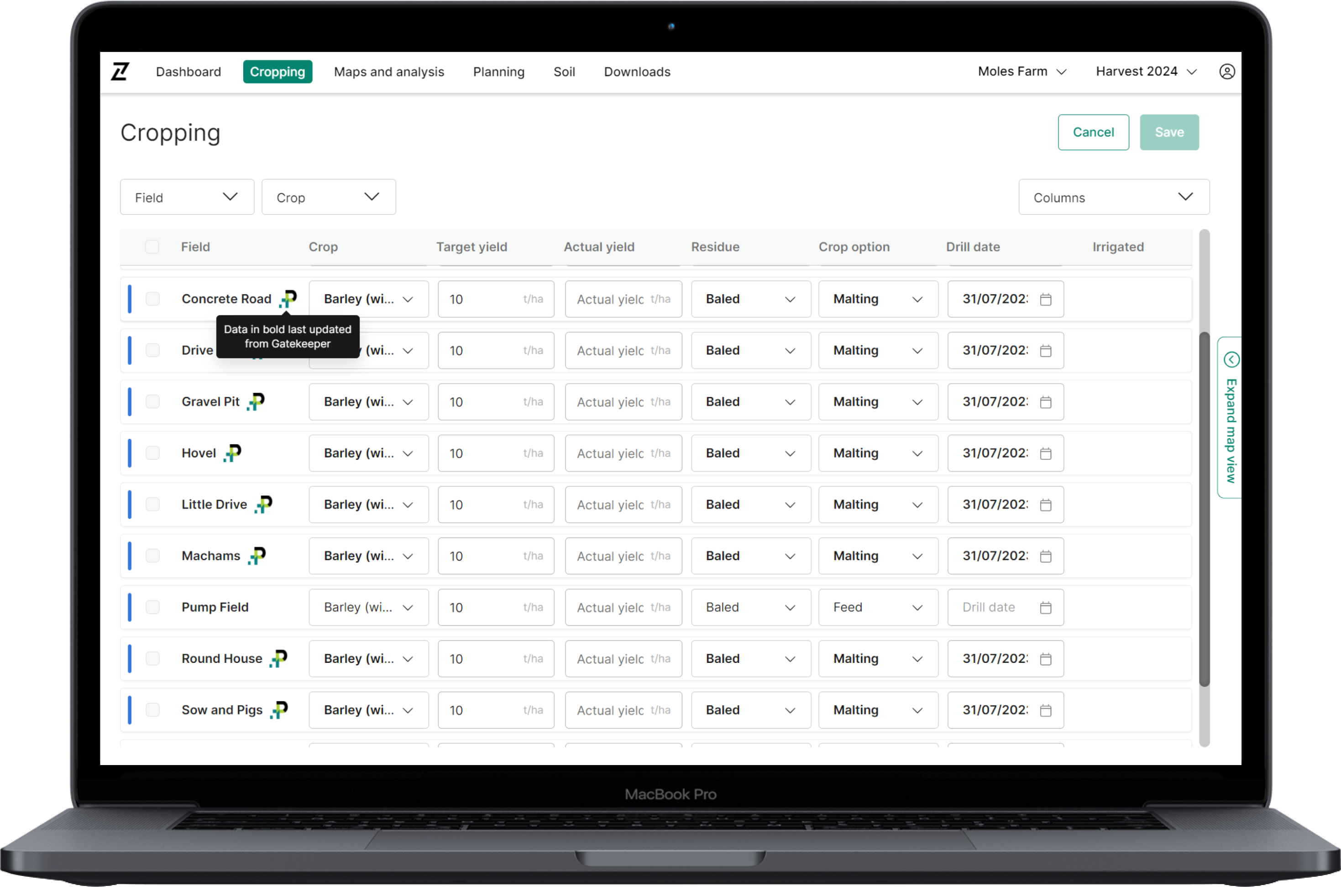 *There are a few rules we have put in place to ensure data integrity:
Data that users have directly entered into Contour will never be overwritten
Variety will only be updated when it is null in Contour and the crop type matches
'Residue' and 'Crop option' are compulsory fields in Contour, so when a crop that doesn't include this information is imported from an FMS, the default residue and crop options will be added
Only target yields between 0.1t/ha and 120t/ha will be imported, and targets in kg/ha will be converted to t/ha
Contour does not currently support split cropping, so data from any split fields will not be imported
In addition, as imports are completed every few weeks, please note that data will not instantly update in Contour when it is changed in the FMS – we are awaiting better API services from Gatekeeper and Muddyboots to enable this. If you have new data that you require to be imported urgently, or in the unlikely event that you notice something which isn't right, please let our support team know via servicedesk@digital.originenterprises.com.