Introducing Contour Nutrient Planner
The new Contour Nutrient Planner is now available, enabling farmers and their advisors to make informed nutrition decisions quickly and easily. Users can now create a complete crop nutrition plan for the whole farm in one simple flow that offers precision, flexibility, and control.
Here's how:
Nutrient Planning can be accessed for all accounts from the Nutrient Planner Homepage
Multiple nutrient plans can be created per farm and season, so you can test as many planning scenarios as you wish
Nutrient Planner automatically provides tailored, RB209 compliant nutrient recommendations at zone level, based on cropping, precise soil indexes, soil type, and localised weather data for increased accuracy and precision beyond RB209 book figures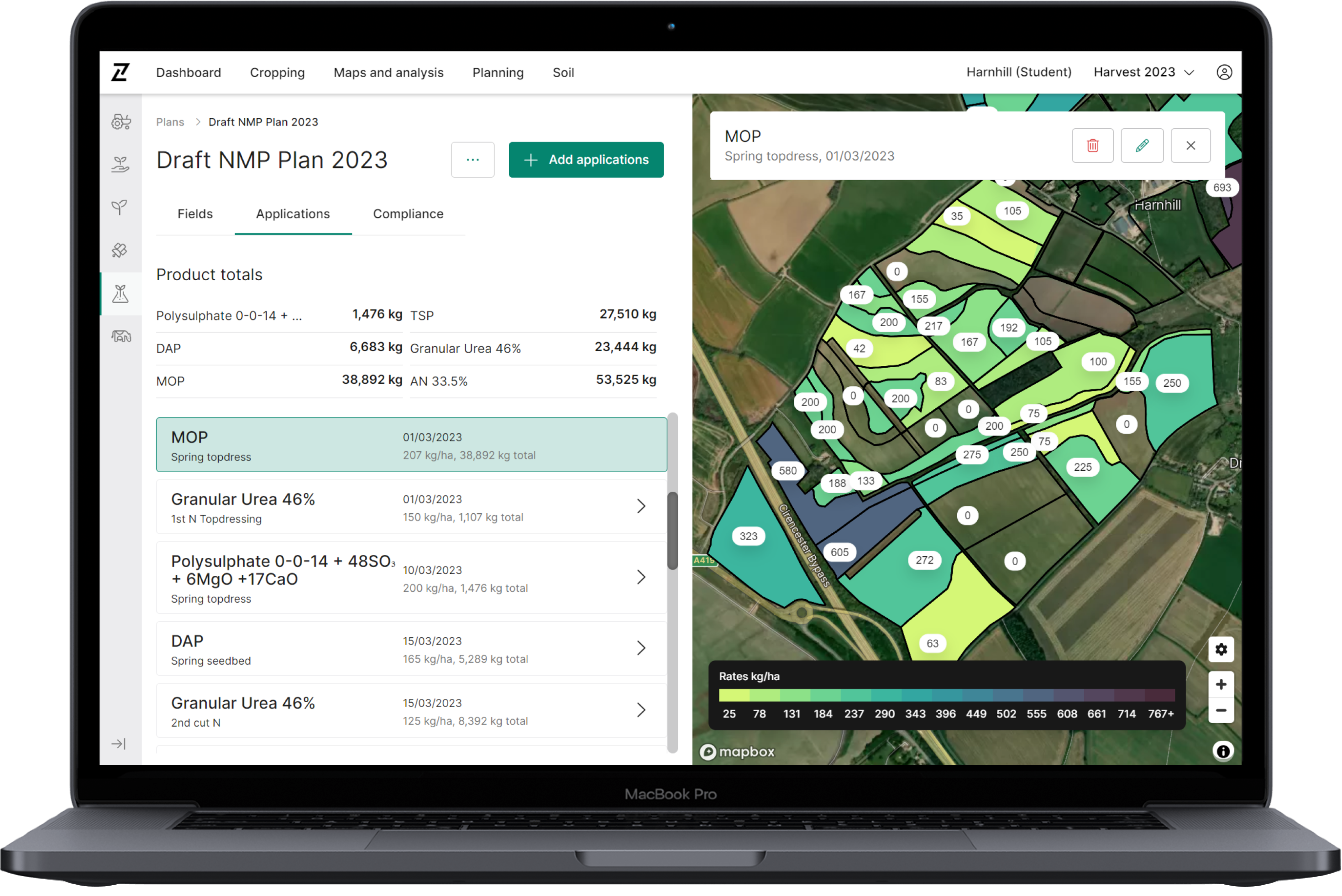 When creating your plan, ruleset-based applications automatically calculate product rates by zone to meet nutrient requirements in each field, while giving you flexibility to tailor the application by setting minimum and maximum rates, or specifying custom rates for particular zones
In addition, multiple applications can be created at once, including combinations of flat rate and ruleset applications, enabling you to build a complete crop nutrition plan in one simple and easy flow
Customisation is built-in: custom products and timings can be created and saved to an account for use across multiple farms, plans and years, while custom fertiliser application templates enable fast creation of applications across multiple plans, farms and accounts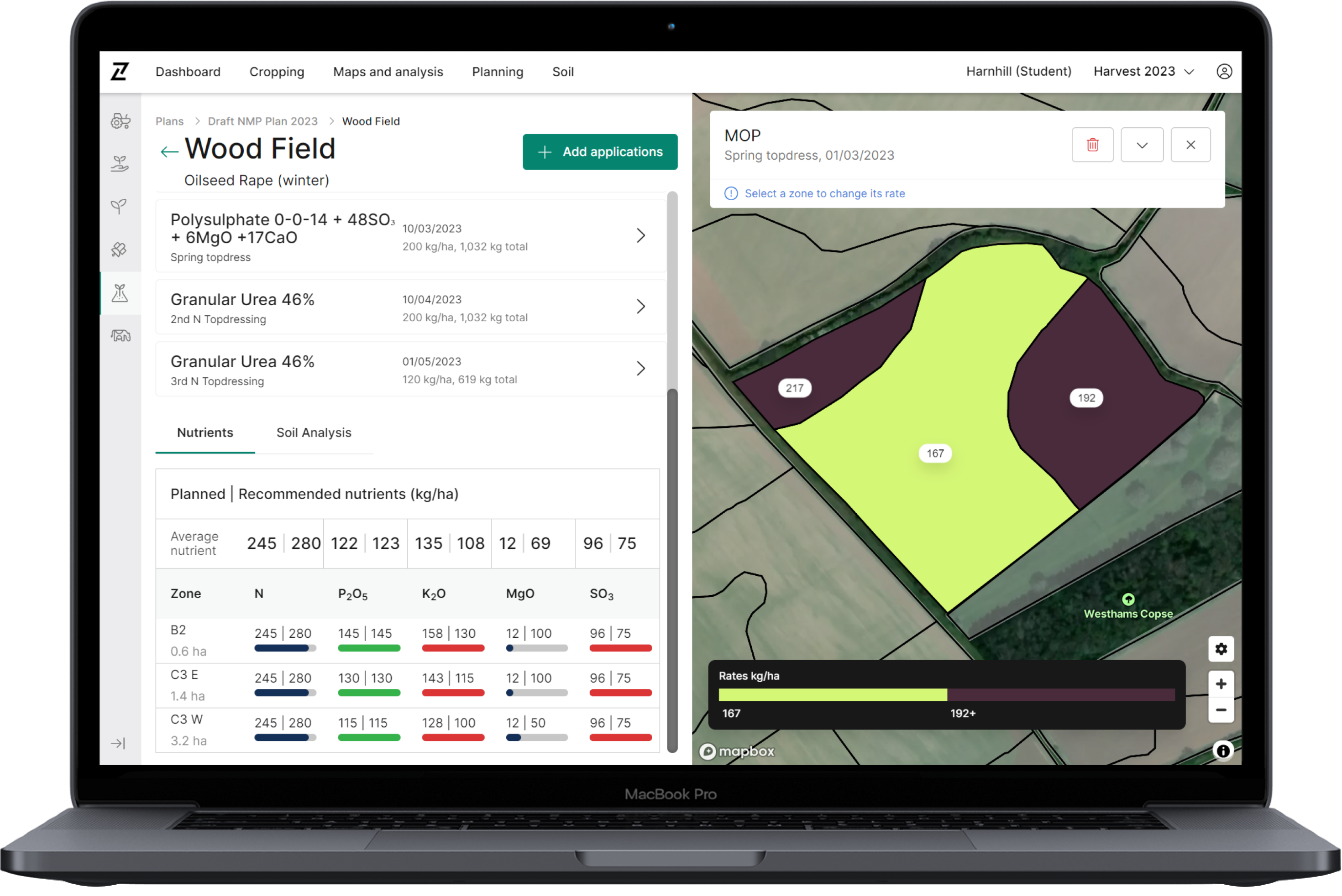 Nutrients from planned applications are displayed against recommendations at field and zone level, enabling quick comparisons to check nutrition status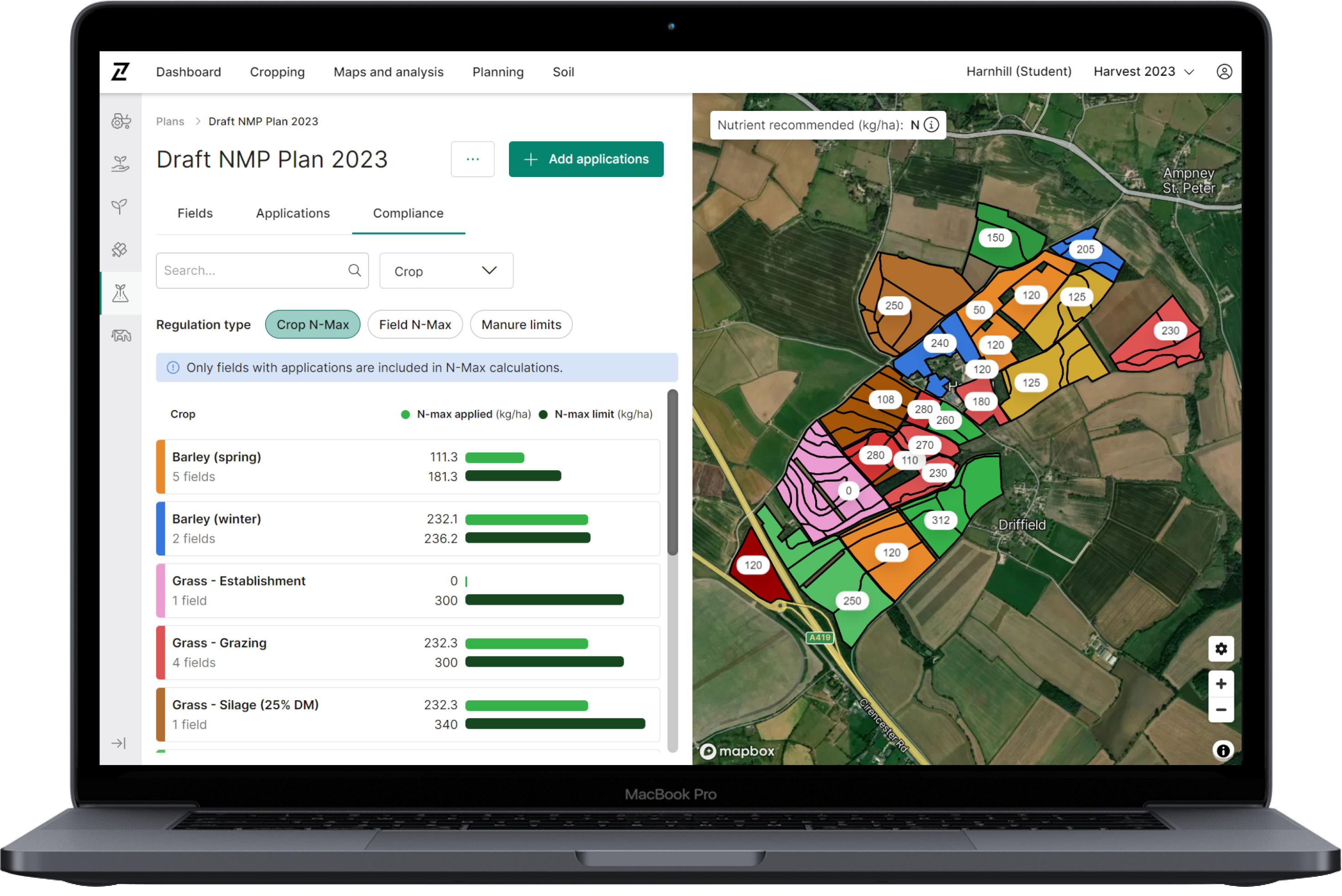 Nutrient Planner aggregates information from all of the applications in your plan to quickly verify NVZ compliance (England & Wales), and shows cumulative product totals for budgeting and ordering
DEFRA NVZ data is used to automatically detect whether fields are located in or out of an NVZ, saving time and removing any need for manual checks and data entry
Plans and applications can be bulk adjusted to match either a fixed product total or desired % change by scaling application rates, with flexibility to add or remove individual fields from the adjustment
Nutrient Planner provides variety of reports that can be generated in the 'Downloads' tab and printed ready for inspections:

Job Sheet Reports contain product totals, application tables, and application maps, making it easy to share plans and applications with growers
Nutrient Management Reports demonstrate that growers have calculated nutrient requirements and created a nutrient management plan in accordance with RB209
NVZ Reports show fertiliser and field manure applications against N-Max limits at zone, field, and crop level

The FACTS qualified advisor number of the user downloading the report is displayed on the cover page for compliance, to demonstrate that plans have been created by a qualified advisor
Plans can be exported as shapefiles, ISOXML and a number of other formats to support a wide range of machinery types and manufacturers
Why wait – get started building plans now for Harvest 2024 to support your growers with optimal nutrition tailored to their farm, and please send any feedback you may have to info@digital.originenterprises.com to help us improve.